Al-Qadi Honored by Transportation Trade Organization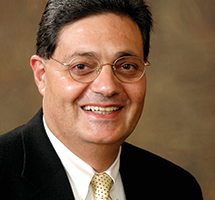 Professor
Imad L. Al-Qadi
was awarded the American Road & Transportation Builders Association's (
ARTBA
) S.S. Steinberg Award January 13 during the association's annual Research and Education Division (RED) meeting in Washington, D.C. Named after the founding president of the ARTBA's RED, the award recognizes individuals who make remarkable contributions to transportation education.
Al-Qadi is the Founder Professor of Engineering and director of the Illinois Center for Transportation (ICT) and the Advanced Transportation Research and Engineering Laboratory (ATREL), both headquartered within CEE at Illinois.
The ARTBA cited Al-Qadi for establishing himself as a leader in the transportation profession by advancing transportation engineering through his effective leadership, exceptional scholarly contributions, and research innovations on pavement materials, analysis and design; pavement interlayer systems; pavement instrumentation; and ground penetrating radar.
"Throughout his career he has improved the state of transportation engineering and facilitated technology transfer of new academic studies to the actual practice of transportation by serving as the principal/co-principal investigator of more than 100 projects sponsored by various federal and state agencies as well as international industry and managed more than 170 projects through ICT," said a release issued by the organization.
In addition to being a member of the ARTBA RED through his affiliation with the Council of University Transportation Centers, Al-Qadi has also served on more than 20 technical committees, task forces and advisory boards. He is an elected Distinguished Member of the American Society of Civil Engineers (ASCE), President of the Board of Governors of the ASCE Transportation and Development Institute, past Chair of the Transportation Research Board (TRB) Preservation and Maintenance Section, Group Leader of the ISAP Technical Committee on Interlayer Systems, and Chair of the TRB Subcommittee on Interlayer Systems to Control Reflective Cracking. He is also past Chair of the TRB Committee AHD25 on Sealants and Fillers for Joints and Cracks, the TRB Subcommittee AFS70-2 on Geosynthetics in Flexible Pavement Systems and the American Society of Civil Engineers Highway Pavement Committee and Design, Construction and Maintenance Council.
Established in 1902, the Washington, D.C.-based ARTBA is the "consensus voice" of the U.S. transportation design and construction industry before Congress, federal agencies, White House, news media and the general public.