Bond wins MacArthur 'Genius' Grant
A video about Bond's work created by the MacArthur Foundation is available online.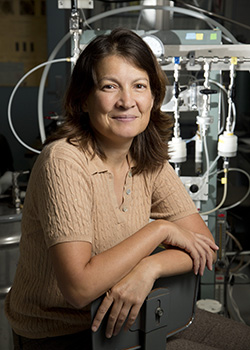 CEE Professor Tami Bond has been awarded a 2014 MacArthur Fellowship, commonly known as a "genius grant," from the John D. and Catherine T. MacArthur Foundation.
The fellowship carries an unrestricted $625,000 stipend to be used as the researcher sees best. According to a statement from the MacArthur Foundation, the fellows are chosen according to three criteria: "Exceptional creativity, promise for important future advances based on a track record of significant accomplishment, and potential for the fellowship to facilitate subsequent creative work."
Bond is a world leader in the study of aerosol emissions. She studies particles released into the air from burning all sorts of fuels, from biomass burning to kerosene lamps to diesel engines. She has been a pioneer in understanding the effects of black carbon, the dark soot that floats into the air when organic matter is burned – a hazard for human health and the environment, affecting air quality both indoors and out. She has formed partnerships with the World Bank to measure emissions from diesel vehicles in developing nations and with nonprofit organizations to measure biofuel-cooking emissions. Understanding is only half the battle, though, and Bond seeks innovative solutions through practical, low-cost interventions, such as training people in developing countries to measure and evaluate their own cookstoves.
"Professor Bond is an exemplary scholar, a great mentor and teacher, and a dynamic voice for using science and practical engineering solutions to address the grand challenges of aerosol and black carbon pollution threatening our environment and our health," said Phyllis M. Wise, chancellor of the Urbana campus. "This recognition by the MacArthur Foundation is well-deserved and – to those of us who know her on this campus – not at all a surprise. We're proud to have her as a colleague and all of us here at Illinois offer our congratulations to her for this honor."
Bond earned a master's degree in mechanical engineering, focusing on combustion, from the University of California at Berkeley in 1995 and an interdisciplinary Ph.D. in atmospheric sciences, civil engineering and mechanical engineering from the University of Washington in 2000. She completed a postdoctoral fellowship with the National Oceanic and Atmospheric Administration and served as a visiting scientist at the National Center for Atmospheric Research before joining the faculty at Illinois in 2003. She also is affiliated with the department of atmospheric sciences at Illinois.
Bond received a Faculty Early Career Development (CAREER) award from the National Science Foundation in 2004 and was named a University Scholar by the U. of I. in 2012. She has been a part of a number of panels and reports on air pollution for governmental agencies, and has served on committees to promote standards and testing for clean cookstoves.