CEE Hosts Smart Structures Summer School
The opportunity for intensive instruction in the emerging field of smart structures technology drew 45 students from 30 universities representing 15 nationalities to the University of Illinois at Urbana-Champaign this summer for the second annual Asia-Pacific Summer School on Smart Structures Technology (APSS'09), hosted by the Department of Civil and Environmental Engineering July 3-25. Funded by the National Science Foundation (NSF) and several international funding agencies and university partners, the summer school provided the students with a unique educational experience in the field through coursework, lectures and labs, as well as an enriching cultural experience.
The vision of smart structures technology is to develop future structures that are capable of self-sensing and monitoring; self-diagnosis and prognosis with intelligence; self-healing and repair; as well as adaptive response to prevent the loss of human life and catastrophe, minimize maintenance and life-cycle costs, and prolong service life.
"Smart structures technology, a natural application of the information revolution to civil engineering, provides the opportunity to gain a deep understanding of the state and performance of civil infrastructure systems," said CEE Professor Bill Spencer, who conceived of the idea of the summer school with Professor Chung-Bang Yun of the Korea Advanced Institute of Science and Technology (KAIST).
Because of the intrinsic multi-disciplinary nature of the field—which combines civil engineering knowledge with the latest developments in sensor technology, information management and networking technologies—most civil engineering students do not receive an adequate education in smart structures technology in traditional academic programs, Spencer said.
APSS'09 is the second installment of a five-year program, to be hosted each year by a different university partner. The school was hosted last summer, its inaugural year, in Korea by KAIST. In addition to NSF, sponsors included the University of Illinois at Urbana-Champaign; the Asian-Pacific Network of Centers for Research in Smart Structures Technology; the Korea Science and Engineering Foundation; the Japan Society for the Promotion of Science; and the National Natural Science Foundation of China. Student participants were chosen by the university partners from among a large number of applicants.
During APSS'09, students attended lectures by prominent academic and industry leaders in smart structures technology and participated in labs and competitions which offered hands-on demonstrations of the principles and techniques being discussed. Two competitions offered students a hands-on learning experience. A structural health monitoring competition required the students to perform system identification on a pedestrian bridge using wireless sensors. Another competition focused on structural control, requiring students to design and perfect a controller for a double-inverted pendulum system. The student competitions were judged based on their presentations at the end of the session.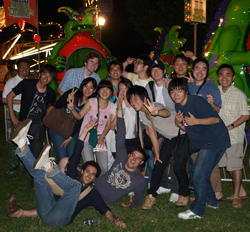 The entire educational experience was set against a backdrop of cultural exchange that gave students a chance to have fun learning about their host country. Members of Spencer's
Smart Structures Technology Laboratory
assisted in planning a full schedule of activities and outings that made the most of the U of I's location in between two major U.S. cities, Chicago and St. Louis. The group began their visit with a trip to Chicago that included sightseeing, Fourth of July fireworks, a visit to Taste of Chicago, a photographic scavenger hunt to teach students about the history of the built environment and the development of the skyscraper, and tours of the architecture and civil engineering firm Skidmore, Owings, & Merrill and the Frank Lloyd Wright house and studio. They also visited St. Louis and Amish Country, and the summer school's closing ceremony and award presentation was held at a unique local banquet facility, Hardy's Reindeer Ranch in nearby Rantoul, Ill.
"APSS'09 has sought to provide a culturally immersive environment by sharing and integrating the students' diverse background, language, history and geography," Spencer said. "This experience will provide a strong foundation for future collaborations on the global stage."
CEE graduate student Brian Phillips, who headed the planning and execution of APSS'09, said the SSTL members whose work contributed to what Spencer called the "seamless operation" of the summer school gained valuable experience with interdisciplinary and international collaboration that will resonate in their future research and careers.
"Organizing the summer school gave me the opportunity to create a schedule of events that formed a balance between lecture, laboratories, tours and cultural experiences that was sustainable for three weeks without becoming tedious," Phillips said. "This, coupled with understanding and meeting the needs of a large number of international students from various backgrounds, has given me a great deal of cultural insight."
CEE graduate student Ryan Kent Giles was also involved in organizing activities for the attendees. Giles said what he learned through teaching will inform his ongoing research through the Smart Structures Technology Laboratory.
"Together, the Smart Structures Technology Laboratory has spent a lot of effort developing advanced wireless sensor technology and control theories that are key components in the development of smart structures," Giles said. "APSS has given us the opportunity to take a step back and organize all our past efforts into a form that we can teach to the students. By doing this, we have identified areas that we can improve to make the technology that much more viable."
Organizers view the five years of APSS as an opportunity to refine their approach to internationally oriented smart structures technology education. Future sessions of APSS will be hosted in Japan, China and South Korea over the next three years, promising three more classes of civil engineering students prepared to become the next generation of researchers and industry specialists working to develop the vast potential of smart structures technology.
"Smart structures technology forces us to step beyond our civil engineering education and see both problem and solution through the eyes of an electrical, computer, mechanical, and aerospace engineer," Phillips said. "By bridging these areas, we are not limited to the best civil engineer's solution, but reach the best possible solution."
Photos, top to bottom
1. APSS'09 participants compete in the structural health monitoring competition, in which they were tasked with performing system identification on a pedestrian bridge using wireless sensors.
2. The winning team during the APSS'09 Chicago scavenger hunt, designed to teach students about the skyscraper and the history of the built environment: (from left) Jongdae Jung, Glen Wieger, Masaki Higuchi, and Tao Li.
3. APSS'09 participants enjoy an Illinois county fair.