CEE Researchers Study the Effects of Hurricane Sandy in New York

Two CEE researchers traveled to New York City in the wake of Hurricane Sandy to study the superstorm's effects on geotechnical structures and traffic. Professor Youssef Hashash led a team of engineers who studied the performance of geotechnical infrastructure in New York and New Jersey. Assistant Professor Dan Work deployed a new traffic monitoring application he designed to help traffic move more smoothly during major events. Both professors are members of the faculty in the department's new program in Sustainable and Resilient Infrastructure Systems.
Hashash's trip was a mission for the NSF-sponsored program GEER, Geotechnical Extreme Events Reconnaissance. The team of engineers from academia and industry examined tunnels, subways, basements, bridge foundations, and coastal structures to learn how they behaved during and after the flooding. The group split up into teams to cover Manhattan, New Jersey, Staten Island, Rockaway Beach and Queens. Hashash himself spent time in lower Manhattan and Staten Island, documenting the aftermath of the flooding. On Staten Island, "the scene was reminiscent of the aftermath of a tsunami," he said.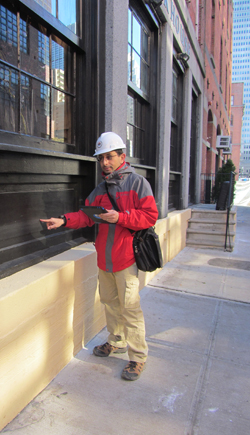 "Clearly, the storm came in with very high surges that the infrastructure was simply not designed to accommodate," Hashash said. "We had a combination of a superstorm, high tide, and the gradual rise in sea levels that is taking us to territory that we have not seen before. … Now we have to start thinking seriously about how to make our cities resilient to deal with these storms that are anticipated more frequently."
At left, Professor Youssef Hashash indicates the height of the water line from storm surge flooding in Manhattan after Hurricane Sandy.
Assistant Professor Dan Work and his team made the trip to Manhattan to deploy a new system that can provide valuable, real-time information to police, emergency personnel and the public during major events and disasters. Called TrafficTurk, the system enables anyone with a smart phone to easily collect traffic data using a specially design application. Work's team held its first large-scale deployment of TrafficTurk in Champaign-Urbana on Oct. 27, Homecoming weekend at the U of I. At that time, more than 100 students were stationed around town to use the app and send data back to "mission control" in Newmark Civil Engineering Laboratory. The following weekend found the team in Times Square, documenting post-Sandy traffic patterns with the help of Columbia University students. They also invited the public to download the app and use it anywhere in Manhattan. They will analyze the collected data to see what they can learn about post-disaster traffic patterns.
TrafficTurk promises to revolutionize traffic monitoring during extreme congestion events, Work said. For decades, traffic engineers have relied on manual data collection on surface streets, using tools called turning movement counters. The devices are expensive, though, and municipalities could never afford to give them to hundreds of people at once for real-time monitoring, he said. TrafficTurk employs an application that essentially turns a smart phone into a turning movement counter. The application can be downloaded from a website and utilized by as many people as necessary, depending on the size of the event. The information recorded can be made immediately available.
"Anybody with a phone can do it—the hardware cost is now removed," Work says. "You still need to pay people to collect data, but you can collect it at every intersection simultaneously, and it can be used to generate state-of-the art traffic analytics to enable better real-time traffic management."
The system's name was inspired by a chess-playing machine from the 18th century called the Mechanical Turk, which was secretly controlled by a world-class chess expert hidden inside. As with that machine, Work says, the secret to TrafficTurk's success is the people who operate it.
"For event-driven congestion, TrafficTurk incentivizes users to collect data at scales which are not possible using today's technology," he says. "Eventually I'd like to see event-driven traffic congestion monitored and managed efficiently, anywhere in the world," he says.