García named second Yeh Chair

Professor Marcelo H. García has been named the second holder of the M.T. Geoffrey Yeh Endowed Chair in Civil Engineering. CEE alumnus Yeh (BS 53) established the chair in 1998. Yeh is a philanthropist and the retired chairman of Hsin Chong International Holdings Ltd. In 2000, Professor Robert H. Dodds Jr., now emeritus, became the first holder of the title.
García is a leader in the field of river mechanics, sediment transport, sedimentation engineering and environmental hydraulics. He is best known for his research in sediment entrainment from riverbeds, flow and transport in vegetated channels, the mechanics of oceanic turbidity currents, and the dynamics of mudflows in mountain areas. García joined the faculty of the University of Illinois at Urbana-Champaign as an assistant professor in January 1990, becoming a full professor in 2000. In 2001, he was invested as the first Chester and Helen Siess Endowed Professor of Civil Engineering and as Honorary Professor at his alma mater, Universidad Nacional del Litoral. He teaches an undergraduate course on Water Resources Engineering and Hydraulic Engineering. At the graduate level he teaches Environmental Hydrodynamics, Sediment Transport, River Mechanics, and Open-Channel Hydraulics. Since 1997, he has served as the Director of the Ven Te Chow Hydrosystems Laboratory.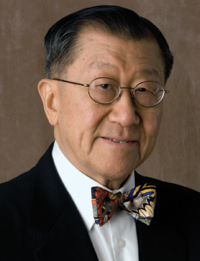 "I am deeply honored to have been selected as the second M.T. Geoffrey Chair in Civil Engineering," García said. "Geoffrey's generosity to Illinois has been tremendous, and I am committed to strive for the level of excellence in teaching, research and service that he achieved after receiving his education from the University of Illinois.
"I am also extremely grateful for the support I have received from the Chester and Helen Siess Professorship. This support has been instrumental for me and my students for more than a decade and it has been both an honor and a privilege to serve as the first Siess Professor in Civil and Environmental Engineering."
Yeh has long been a supporter of the University of Illinois, from which he earned his bachelor's degree in civil engineering in 1953. He went on to earn a master's degree from Harvard in 1954. He received an honorary doctorate degree in commercial science from St. John's University in New York in 1982. In 2011, he founded the Yeh Family Philanthropy, a family foundation. A member of the President's Council of the University of Illinois Foundation, Yeh was the lead donor for the M.T. Geoffrey Yeh Student Center, a 20,500-square-foot addition to Newmark Civil Engineering Laboratory that provides state-of-the-art classrooms, meeting rooms and informal gathering space for students in the Department of Civil and Environmental Engineering at Illinois.
In 2012, Yeh was inducted into the Engineering at Illinois Hall of Fame for making "significant and lasting contributions to the construction and financial sectors in Hong Kong, serving as chair of the Hsin Chong Group of Companies, including Hsin Chong Construction Group, Ltd., a publicly listed company, until his retirement in 2002." The college also cited Yeh's commitment to community service, his work on the Hong Kong Futures Exchange Ltd., and his positions as founding court member of the Hong Kong University of Science and Technology and as court member of Hong Kong Baptist University.
"We are delighted that Professor Marcelo García will become the second Geoffrey Yeh Endowed Chair in CEE in fall 2014," said Benito Mariñas, CEE professor and Interim Head. "His outstanding contributions and leadership in research, teaching and service are an inspiration for all of us."