Hundreds of CEE students turned out on February 26 to meet with recruiters from nearly 60 companies at the department's Professional Development Fair. The annual event, held in Newmark Lab, connects CEE students with potential employers for internships, summer jobs and permanent positions. As always, many of the recruiters were department alumni. Ken Floody (BS 83) of Ingenii LLC, the president of the CEE Alumni Association, was on hand to critique student resumes, and a continuous queue of students kept him busy until two hours after the fair had ended.
The week before, Floody presented a resume workshop designed to help students get ready in anticipation of the job fair. About 150 students showed up on February 19 for a presentation by Floody, free pizza, and a chance to have their resumes critiqued individually by an alumni volunteer. The RSVP response from students was so great that organizers had to call in additional alumni volunteers at the last minute. The department would like to thank the following Illinois alumni for offering resume advice that evening:
- Dave Byrd (BS 01, MS 06), EFI Global Inc.
- Stan Herrin (BS 74, MS 78), Crawford, Murphy & Tilly Inc.
- Gen Long (BS 02, MS 03), Applied Pavement Technology
- Monty Wade (BS 91, MS 93), Applied Pavement Technology
- Keith Schinkoeth (BS 02, MS 03), Clark Dietz Inc.
- Nirav Patel (BSME 02, Mechanical Engineering), Clark Dietz Inc.
- Amy Russell (BS 98, Agricultural Engineering), Illinois State Water Survey
The department also extends a special thanks to the following company sponsors of the 2010 Professional Development Fair:
Gold Level
MWH
Silver Level
Bowman, Barrett & Associates Inc.
Civiltech
Golder Associates
Milhouse Engineering and Construction Co.
Bronze Level
Thomas Engineering Group
CEE students Claire Joseph and Amna Mahmud helped out with the registration table. A third student volunteer, Mike Roggeman, is not pictured.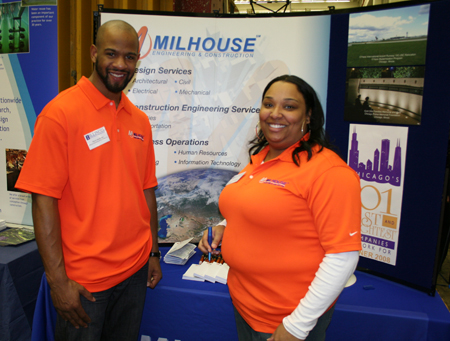 Pierre Henderson and Flashette McKee of Milhouse Engineering and Constructors.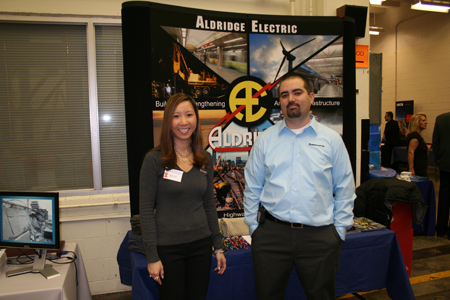 Debbie Wolff and Dan Ryan of Aldridge Electric.
Terry Boyer (BS 87, MS 88), left, and Jon Howaniec of Clark Dietz.
Ken Yang (BS 96), left, and Matt Santeford of Transystems
Doretha Johnson of the Lake County Division of Transportation talks with a student.
Kevin Corzatt (MS 05) and Joseph Kaiser (BS 70, MS 71) of BSI Constructors.
Robert Pekelnicki (BS 00, MS 01) of Degenkolb speaks with a student.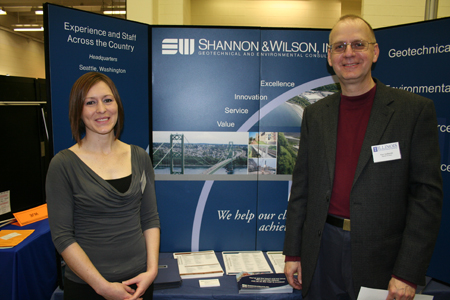 Shannon & Wilson reps Cora Johnson (MS 08) and Paul Godlewski (BS 76, MS 78).