Researchers study post-Sandy traffic in New York City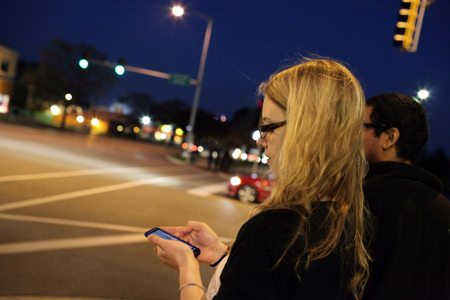 A University of Illinois student uses TrafficTurk to collect traffic data on her smart phone during the U of I Homecoming game.
Transportation researchers are asking the public for help this weekend in studying post-Sandy traffic patterns in New York City. Anyone with a smart phone can collect traffic data on Saturday, anywhere in Manhattan, using an application developed at the University of Illinois at Urbana-Champaign. The researchers will analyze the data to learn about how traffic is affected by major disasters.
The team, led by Illinois Assistant Professor Dan Work, is using an innovative new system that makes collecting traffic data so easy anyone with a smart phone can do it—once they download the app. Called TrafficTurk, it can provide valuable, real-time information to police, emergency personnel, and the public, with the goal of helping traffic flow more smoothly during major events. Last week, the team took advantage of Homecoming crowds to test the system in Champaign-Urbana.
The University of Illinois team and transportation researchers from Columbia will collect data in Times Square Friday afternoon. On Saturday, they will compile the data provided by volunteer members of the public.