Roesler Awarded Fulbright Scholar Grant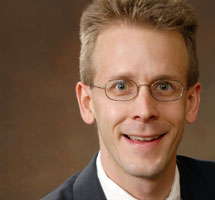 Associate Professor
Jeffery R. Roesler
has been awarded a 2009-2010 Fulbright Scholar grant.
Roesler, who is the IL-American Concrete & Pavement Association Faculty Scholar, has been researching and lecturing on advances in concrete pavement design, analysis and materials, as well as on design, modeling and material requirements for thin concrete pavements at the Pontifical Catholic University of Chile in Santiago since August. He will continue through December.
Roesler's professional and research interests include concrete pavement design and analysis, shrinkage and creep of concrete, fatigue and fracture of concrete, continuously reinforced concrete pavements, effects of curling and warping on concrete pavement responses, characterizing concrete joint behavior, accelerated pavement testing of PCC, and fibrous concrete. He has taught undergraduate and graduate courses in pavement engineering, specifically pavement analysis and design.
Recipients of Fulbright Scholar grants are selected on the basis of academic or professional achievement, as well as demonstrated leadership potential in their fields, according to the Fulbright Scholar Program. Roesler joins about 800 other Americans who have received the grants to lecture or conduct research abroad. The program is sponsored by the U.S. Department of State.