Systems Class Studies China's Environmental Challenges First-Hand

Environmental systems students visit an observation site in the three-kilometer band of drought-resistant plants used to combat desertification around Minqin.
By Dan Malsom
Thirteen CEE graduate students and their professor traveled to China over spring break in March to get a first-hand look at environmental challenges in the country's Shiyang River Basin. The trip was part of a class project in Professor Barbara Minsker's newly redesigned Environmental Systems II course, for which she is collaborating with Tsinghua University Professor Jianshi Zhao, who is teaching a parallel class in China.
Minsker redesigned the course this year as part of the department's initiative to give students more international and multi-disciplinary educational experiences. According to Minsker, in order to fully comprehend environmental problems, "there are two elements. One is that to understand sustainability in general, you need to study real world problems. Only real world problems have the breadth and richness necessary to adequately prepare students. (Students) also need to understand how to address sustainability in different cultures."
Early in the semester, Minsker introduced her students to the environmental costs of intensive farming through lectures, videos, and guest speakers in the Upper Embarras River Basin in Illinois. Then, in China, students experienced in person the problems facing farmers and others living in the Shiyang River Basin's arid climate.
"Being able to see what we are studying gave me a much deeper perspective than I could gain by reading about them," said CEE undergraduate student Chuan Li. "The challenges became much more real and personal because I got an idea of what the farmers could have felt."
Students on the trip toured reservoirs and engineered water structures in the watershed and also had the opportunity to interview local farmers and the river basin's water management committee. They also viewed some different mechanisms protecting farmland against desertification--the process by which desert land spreads and renders farmland unusable--and learned about the mix of infrastructure development and public policies enacted in the region to help combat it and support the population.
"You can see that this project is not only about engineering, but deeply connected with the social sciences," said Tristan Wietsma, CEE graduate student.
It had been 10 years since Minsker had taught the Environmental Systems course because of other teaching and leadership commitments. The return to environmental systems gave her a chance to teach the class in a new way that was inspired by her leadership in the campus-wide sustainability initiative, particularly the Prairie Project sustainability curriculum program that she created this year. Professor Ximing Cai, who also participated in the Prairie Project, introduced her to Zhao, who had spent his sabbatical at Illinois several years ago. Minsker and Zhao share lecture materials and case study information, and make many lectures available online to all students involved. When Minsker taught the course in 2001, she began the semester by teaching students the different methods of environmental systems analysis. The course would then culminate in an environmental case study and final project. Today, the opposite is true.
"I decided to turn [the course] upside down: teach the problems and then the methods," Minsker said.
The China trip introduced students to a scope of environmental issues, and then they worked back in class to find possible solutions.
"On one hand, we went to the west of China, and saw the harsh natural and living environment, especially the desert," said Wenzhao Xu, a graduate student at Tsinghua. "On the other hand, we learned lots of engineering methods and regulations to solve this problem of conflicts between societal development and ecosystem sustainability. Field study is necessary if you want to learn it more."
Li sees the trip influencing decisions he will have to make in the future.
"I have been for a long time interested in water resources and its related challenges around the world," he said. "I think the experience from this trip will keep that interest in me for a very long time. It will definitely be an influence to my career."
When it comes to China's fast-paced growth, population boom, and accompanying massive environmental problems, Minsker said, "you really have to see it to understand the immensity of it."
"The trip really opened my eyes to the scale of development going on," Wietsma said. "I thought, naively, that I had a good understanding of the population size and the pace of industrialization. … But the human brain is just not very good at dealing with large numbers. For example, if you ask someone how many pennies can fit in a room, typically their answer is off by several orders of magnitude. It really took getting my feet on the ground before everything I had read and heard started to sink in."
The trip was paid for primarily by the students, with financial aid provided by the CEE Department, the Graduate College, and the Center for East Asian and Pacific Studies to defray the cost for those who couldn't pay in full. For the Illinois students, the cost per person was about $2,100. Minsker is seeking funding that would enable her to offer the trip to students each time the course is offered.
While the river basin case study took up most of the time on the trip, Minsker and her students also had a chance to do some sightseeing. Tour stops included the Forbidden City and the Great Wall, among other places of interest.
According to Minsker, the trip and hands-on case study has proven invaluable to the group as a whole.
"Just spending a week together in those close quarters, we're so much closer as a class now," she said. "I've noticed throughout the semester that the students seem so much more motivated and interested as compared to when I used to teach the class. The students were really engaged this time, so we are hoping that we can do trips like this as a regular part of our curriculum every year."
Zhao said that he hopes that Illinois and Tsinghua will continue to collaborate.
"Of course we are planning to set up a long-term collaborative course," he said. "And my department head is asking me if it is possible to establish collaboration on more courses between the Department of Hydraulic Engineering of Tsinghua and the Department of Civil and Environmental Engineering [at Illinois]."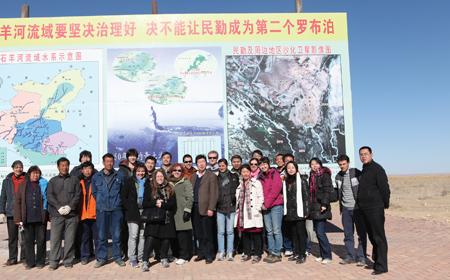 Students from both universities pose with professors Minsker (front row, green coat) and Zhou (to the right of Minsker).
Photos: Tristan Wietsma
The group visits a farm site that no longer has access to groundwater (left to right): Professor Zhou, a water management official, CEE undergraduate Chuan Li, and Professor Barbara Minsker.