There's an app for that: Mobile apps improving rural roads
Above: Typical seal-coated, gravel, and dirt roads, left to right.
---
By McCall Macomber
Rural roads are more than just scenic routes. In fact, unpaved roads make up 58 percent of the state's total road mileage, according to the 2015 Illinois Highways and Street Mileage Statistics.
These off-the-beaten-path roadways play a major role in the economy, connecting farm to city through the transportation of agricultural goods. With decreasing funding for rural roads, it's more important than ever to find reliable and cost-effective methods to understand their conditions.
Illinois Center for Transportation and Illinois Department of Transportation hope to do just that in project "R27-174: Methodology for Evaluation of Seal-Coated, Gravel, and Dirt Roads."
"Having documentation on the best practices and a methodology to help highway commissioners evaluate seal-coat, dirt and gravel roads will benefit the public," said IDOT local policy and technology engineer Tim Peters, who also serves as the Technical Review Panel chair for the project.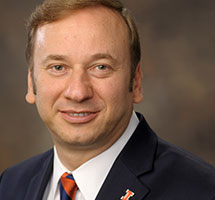 Co-principal investigators, including Bradley University assistant professor Mohammad Imran Hossain and University of Illinois at Urbana-Champaign professor
Erol Tutumluer
, wanted to dig a little deeper into creating the best practices and procedures. So, they decided to begin by striking up a conversation with those who know these roads the best — county engineers and highway commissioners.
Researchers surveyed the officials and found that most counties and townships used a similar technique — the windshield method — to determine conditions on unpaved roads. Here, officials evaluate road damages just by looking out their windshield while driving.
This highly subjective method leads to overspending on road repairs. To explore more cost-effective measures and reliable assessments, investigators put two techniques to the test — manual and automatic assessment methods.
The manual methods involved evaluating both the new Seal-coated Road Condition Index and the Unsurfaced-road Condition Index, which measure seal-coated road surfaces and surfaces on gravel and dirt roads, respectively.
But there was just one problem: these manual methods were time-consuming, costly and often entailed lane closures.
The researchers then shifted their focus to automated methods, where they used three mobile apps to measure the roughness of rural roads. They tested several variables to determine the effectiveness of the apps, including road material, vehicle type, speed and even the cellphone mount.
Ultimately, researchers found that apps were an effective, cost-saving real-time technique to determine road roughness conditions.
Another great takeaway from the project included establishing a best-practices database and guide for local agencies, especially in terms of understanding maintenance and rehabilitation schedules as well as associated costs. This will allow local transportation agencies to better serve Illinoisans while saving tax money.
"Based on the developed best-practice guide and the use of the apps, significant cost savings and increased service lives for unpaved pavements may be realized," Tutumluer said.
The research team is excited to continue studying app use on rural road conditions.
"This project is a first stepping-stone to automate low-volume or rural road condition data. The use of cellphones to collect pavement distress data is currently state of the art, and the state of Illinois is at the forefront," Hossain said.