New workshop invites top women students to consider graduate school
Forty-five top women students from across the country were encouraged to pursue graduate degrees and introduced to the grad program in CEE at Illinois Sept. 18-19 during the first annual We Go CEE workshop, sponsored by the department.
"Many students come from universities that don't have a graduate program so they haven't been exposed to research and don't know about the opportunities that graduate degrees provide," said Assistant Professor
Cassandra Rutherford
, who conceived of the event and directed the inaugural one. "I also wanted to highlight the outstanding faculty, graduate students, staff and alumni from the CEE department at the University of Illinois. I believe that our department is uniquely qualified to provide this workshop due to the large number of women faculty in the department, the high caliber of current women graduate students and the exceptional success of our women alumni."
About a dozen alumnae and all of the department's 13 women faculty members participated in the workshop. Fourteen of the student participants were from CEE's undergraduate program, and the rest hailed from 28 other schools in 15 states.
CEE alumna Sharon Wood (MS 83, PhD 86), dean of the Cockrell School of Engineering at the University of Texas at Austin and the Cockrell Family Chair, delivered the keynote address. Wood discussed the decisions she made throughout her career, the fact that she was the only woman in most of her classes and the importance of finding a mentor. She offered a quote from Maya Angelou: "Success is liking yourself, liking what you do and liking how you do it."
Another key speaker was CEE Professor
Tami Bond
, the Nathan M. Newmark Distinguished Professor in Civil and Environmental Engineering and a 2014 winner of the MacArthur Fellowship. Bond spoke during a networking dinner at the Illini Union the first evening.
Four CEE alumnae participated in a panel discussion about their various educational and career paths: Francina Dominguez (MS 03, PhD 07), Karen Kabbes (BS 77), Dana Mehlman (BS 99, MS 01) and Kathryn A. Zimmerman (BS 83, MS 85). Agricultural Engineering alumna Kay Whitlock also participated. Several other CEE alumnae attended the networking dinner, including Nancy L. Gavlin (BS 76), director of education for the American Institute of Steel Construction; Meg C. Griffin (BS 92), coordinator of CEE Online programs; Paula C. Pienton (BS 85), director of transit for T.Y. Lin International and a member of the CEE Alumni Association Board of Directors; and Angela S. Wolters (BS 99, MS 00), assistant director of Women in Engineering program for the College of Engineering.
Department speakers gave details about fellowships and assistantships, the application process, entrepreneurship for engineers and building your resume for grad school. Other activities ranged from lab tours to bowling in the Illini Union.
Currently, women make up about 27 percent of the CEE undergraduate student body. Increasing the diversity of the student body in CEE is a priority for the department, said Professor and Head Benito Mariñas.
"Our discipline serves society, and in order to serve society we have to represent society in our students and in our faculty," Mariñas said.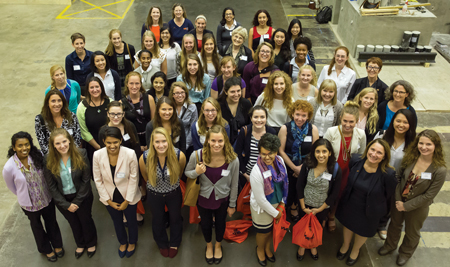 Workshop participants pose for a group photo in Newmark Lab's crane bay.
---
One of the department's primary fundraising goals is to establish an endowment fund to offer fellowships to attract top women students to CEE at Illinois. For more information, contact Celeste Arbogast, celeste@illinois.edu, (217) 333-6955 or Benito Mariñas, marinas@illinois.edu, (217) 333-6961.