Pandemic forces mid-term pivot to online classes
When the COVID-19 pandemic worsened in the U.S. in March, the University of Illinois discontinued in-person classes in favor of online instruction for spring and summer 2020. Even as they grappled with concerns about health, finances and living arrangements, nearly 1,500 civil and environmental engineering (CEE) undergraduates and graduate students had to finish the school year entirely online. CEE faculty teaching 60 in-person classes had to immediately transition them to virtual delivery. Thanks to nine years of experience in online education, CEE was poised for a smooth-as-possible transition and learned some lessons to improve online delivery going forward.
The department's online master's program has been in operation since 2011, and classroom technology had recently been upgraded. In January 2020, CEE's online program was ranked number one in the nation in U.S. News & World Report's first-ever rankings of online CEE master's degree programs. As a result of the long history of this program, nearly all of CEE's faculty members had taught online already when the pandemic necessitated it.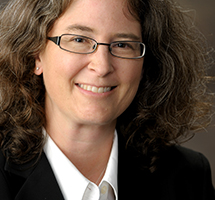 "The CEE department was a leader in the transition, working with faculty and students to share information and resources, as well as working with The Grainger College of Engineering administrative and Information Technology staff to provide feedback and documentation and share best practices for online delivery with other departments," said Meg Griffin, assistant director for graduate programs, who has administered the online program since its inception.
"In many cases, in the first few weeks faculty continued to go into the classrooms and make recordings for students to provide continuity in instruction," she said. "Even before the University requested documentation on plans for individual classes, CEE administration and staff coordinated with each instructor to determine the best plan for each class. Live sessions with students via Zoom were encouraged, and many classes shifted to that format. In some cases, faculty took advantage of personal capture tools to pre-record lectures, and then held discussion sections with Zoom. All live classes were also recorded to facilitate student participation across time zones and varying levels of access to technology and Internet. The biggest challenge to faculty was how to manage assessments, and in most cases, this required making some changes to course requirements given the circumstances – for example, replacing an exam with a project or take-home exam. Laboratory work for classes had to be modified."
One of the faculty members who had not previously taught online is professor emeritus German Gurfinkel. Also an alumnus of CEE, Gurfinkel (MS 57, PhD 66) joined the department's structures faculty in fall 1962. Although he officially retired in 1998, he has continued to teach, bringing his total years of teaching at Illinois to 58. He teaches three courses a year: CEE461 Reinforced Concrete, CEE468 Prestressed Concrete and CEE468 Wood Structures. Gurfinkel says his teaching assistant Gloria A. Frank (BS 18), a current master's student in CEE, facilitated his transition to online instruction this spring.
"She took care of all details regarding the switch from delivering face-to-face to an electronic-virtual mode, for all of which I am most grateful to her," Gurfinkel said.
Gurfinkel prefers in-person instruction because of his practice of asking questions to students at random, which requires them to be present and prepared, helps Gurfinkel get to know them, and helps them get to know one another, he said. Although he tried to preserve as much of his teaching style as possible in the online classes, it wasn't the same.
"The students see me, but I don't see them, and they don't see each other," he said. "I miss looking at their faces to realize if my presentation is well understood. The feeling that a student may have of being in a class surrounded by their own peers is definitely lost."
Gurfinkel is hopeful that online methodology will advance to address these limitations.
"I believe that virtual delivery can neither be ignored nor avoided. The future demands it," Gurfinkel said.
For students, suddenly having to finish the semester online was challenging on many levels. Students struggled with displacement from campus housing, a lack of campus resources, and the logistical and emotional upheaval of the abrupt disruption of the semester.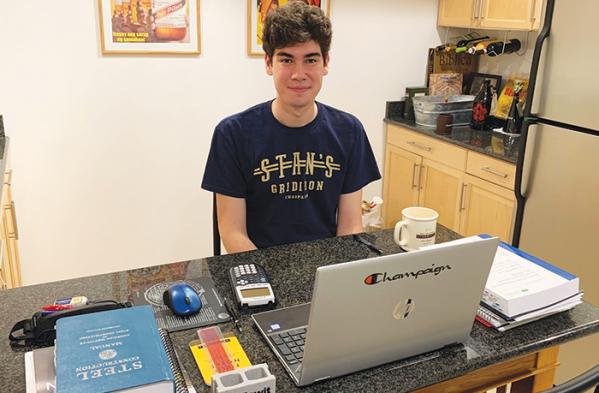 Rising senior Andrew Conwell was enrolled in two of his most important 400-level technical courses. He was able to remain on campus in his apartment but missed having in-class discussion time in these critical classes, he said. He appreciated the understanding of CEE professors, he said, who helpfully addressed any issues he encountered.
CEE student Ryan Schiffer moved back to his family home in Elgin, Ill., where he juggled both his studies and a job at an Amazon Fulfillment Center to help pay for school. But he takes an optimistic view of the experience, saying it "taught me how to be more disciplined, especially as I moved towards my future in industry."
Kayla O'Sullivan moved back home to the Chicago suburbs when school went online. She struggled with the loss of the campus libraries and the availability of engineering workstation computers.
"The CEE classes I was taking this semester relied heavily on a variety of engineering programs and before the switch to online instruction, I did most of my work at engineering workstations that had two monitors. ... A lot of the programs I used were also very new to me and I relied heavily on in-class lab time where I could use the programs and have the course instructors/professors in the same room so I could easily ask questions as I was going along. My professors recorded lab tutorial videos, but it was almost impossible to watch the tutorial and try to use the program at the same time."
Faculty and staff are paying close attention to such student feedback, which Griffin says will be useful in fine-tuning the way online classes are delivered going forward.
"We were able to transition to all-online delivery quickly and well, in part because of our previous online experiences," Griffin said. "This situation forced us to try some new things and look for solutions in new areas, such as assessment, collaboration and labs – and those experiences will continue to enrich our department going forward. But to have the best experience, students must be present on our campus, in our classrooms, libraries and laboratories, and we are looking forward to being back on campus."
Whether fall 2020 will bring a return to in-person instruction, online course delivery or something in-between remains to be determined. But the biggest lessons of spring semester 2020 might have been more philosophical than technical.
"Civil engineers are problem-solvers, and our students and faculty met these challenges with diligence, creativity and flexibility," Griffin said.
---
Top photo: Associate Professor Jeremy Guest and his research group meet via Zoom (April 2020)