2020 CEE Alumni Award winners
The Civil and Environmental Engineering Alumni Association has selected four 2020 Distinguished Alumni Award winners and one 2020 Young Alumnus Achievement Award winner. Distinguished Alumni Awards recognize professional accomplishments or unique contributions to society by alumni of the department. The Young Alumnus/Alumna Achievement Award recognizes a recent graduate who has achieved distinction in his or her field and reached a level of accomplishment significantly greater than that of other recent graduates. The honorees will be recognized at the CEE at Illinois Alumni Dinner in Chicago (date yet to be determined).
2020 Distinguished Award winners:
Paul D. Kovacs (BS 84)
For outstanding commitment to the advancement and increased awareness of safety during maintenance and construction activities on the Illinois Tollway system; for extensive dedication to the implementation of sustainability for construction contracts; and for superior technical and administrative leadership as the Chief Engineering Officer of the Illinois Tollway during the execution of numerous major Illinois Tollway projects, including the system-wide conversion to Open Road Tolling, Rebuilding and Widening the Jane Addams Memorial Tollway (I-90) and the new Illinois Route 390 Tollway.
Paul Kovacs is the chief engineering officer for the Illinois Tollway and is responsible for the policies, practices and procedures of the Engineering Department, which oversees all design and construction operations on the agency's 294-mile system of roadways serving 1.6 million daily users in Northern Illinois. Currently, he is responsible for delivering the Illinois Tollway's 15-year, $14 billion capital program, Move Illinois: The Illinois Tollway Driving the Future.
He joined the Illinois Tollway in 1999 and, prior to his appointment to chief engineer, he served as the open road tolling program manager and deputy chief of project implementation. In this role, he managed the conversion of 20 mainline plazas to open road tolling and improvements along the Tri-State (I-94/I-294/I-80), Jane Addams Memorial (I-90) and Reagan Memorial (I-88) tollways. In his nearly 37 years of professional engineering experience, 17 were spent in the consulting industry.
Kovacs earned his B.S. in Civil Engineering from the University of Illinois and is a registered professional engineer in Illinois and Michigan.
Nancy G. Love (BS 85, MS 86)
For outstanding leadership and pioneering contributions in assessing and advancing human and environmental health through water systems using chemical, biological, and systems analysis approaches; and for emerging work at the interface of water quality and children's livelihoods across the globe.
Dr. Nancy G. Love is the Borchardt and Glysson Collegiate Professor of Civil and Environmental Engineering at the University Michigan, and an adjunct Professor at the Institute of Biotechnology at Addis Ababa University. She has advised over 70 graduate students and post-doctoral research associates. Her research focuses at the interface of water, infrastructure and both environmental & public health. She and her students evaluate the fate, detection and treatment of chemical and biological contaminants in water systems, and advance technologies to establish the efficient management of nutrients, energy and water resources. Their work is centered on identifying and translating fundamental understanding into practical solutions for water utilities and communities.
Love has co-authored over 100 peer reviewed papers, chapters and reports; over 250 conference presentations; and a textbook on biological wastewater treatment. She has held leadership positions in multiple organizations, including with the Water Environment Federation, the International Water Association, and the Association of Environmental Engineering and Science Professors, and is a Fellow of all three organizations. Love is a licensed professional engineer in the state of Michigan and a Board Certified Environmental Engineer.
William J. Nugent (MS 77)
For leading Wiss, Janney, Elstner Associates Inc. to excellence by focusing on the firm's long-term success in its mission to deliver better solutions to the world's construction problems, fostering success leading to growth throughout the United States and internationally, building a culture of unprecedented trust and freedom, and setting a high personal standard of technical excellence, client service and contributions to the profession.
William Nugent joined Wiss, Janney, Elstner Associates (WJE) in 1976 and has served as the company's President and CEO since 1997. In that role, Nugent has helped WJE succeed and grow from about 250 employees in twelve U.S. offices in the late 1990s to more than 750 employees in twenty-nine locations in the U.S. and London today. His career at WJE has also included more than eight-hundred projects involving problems with buildings and other structures. Among these have been structural failure investigations, structural and materials testing, wind and seismic damage assessments, and evaluation and repair of building facade, curtain wall and glass failures or serviceability issues. In addition, he has authored numerous reports and papers and presented lectures on a variety of structural, architectural and materials problems and repair techniques.
Nugent earned a B.S. in civil engineering from the University of Notre Dame in 1973 and M.S. in structural engineering from the University of Illinois at Urbana-Champaign in 1977. He is an active member of the Safety Glazing Certification Council Board of Directors, the American National Standards Institute Z97.1 Committee and the International Association for Bridge and Structural Engineering.
Kevin L. Shafer (BS 83)
For being a local, national and international leader in the development and implementation of Green Infrastructure tools as the chief executive at of the Milwaukee Metropolitan Sewerage District; for leading the initiative to reduce the energy footprint of District operations; and for providing engineering excellence in public service through innovation, creativity and collaboration in the protection of public health and the environment.
Kevin Shafer serves as Executive Director of the Milwaukee Metropolitan Sewerage District (MMSD). Since becoming executive director in 2002, Shafer has been instrumental in providing national and regional leadership in implementing grey and green infrastructure. He has advocated and implemented a regional flood management program, a renewable energy program and a private property inflow and infiltration program. Shafer's 2035 Vision propelled MMSD forward with climate change adaptation through an aggressive program to convert to renewable fuels, install green infrastructure, and preserve floodplains. His leadership has brought MMSD recognition from almost every major award in the industry, including the 2012 U.S. Water Prize.
Shafer has a B.S. from the University of Illinois at Urbana-Champaign and M.S. from the University of Texas. He serves on numerous Boards and is the past president of the National Association of Clean Water Agencies, past co-chair of the Water Research Foundation, co-chair of the US Water Alliance, and is a past member of the EPA's Local Government Advisory Committee. He also serves on the boards of The Water Council, River Revitalization Foundation, Mequon Nature Preserve and Great Lakes Protection Fund. His many awards include The Water Council's Water Warrior of the Year, Wisconsin Academy of Sciences, Arts and Letters' Fellows Recognition, Daily Reporter's Newsmaker of the Year, Gathering Waters Policymaker of the Year, and American Academy of Environmental Engineers' Edward J. Cleary Award.
2020 Young Alumnus Achievement Award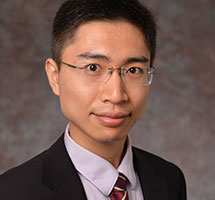 Xiang Liu (MS 11, PhD 13)
For establishing a diverse, externally funded academic program in Railway Transportation Engineering, developing a curriculum in rail engineering, attracting quality graduate students and being a prolific author of high-quality papers published in peer-reviewed journals; and for being one of the top-rated professors at Rutgers School of Engineering and Principal Investigator on several high-profile US DOT-sponsored research projects on railroad engineering.
Dr. Xiang Liu is currently the A. Walter Tyson Assistant Professor in the Department of Civil and Environmental Engineering at Rutgers University. He is also the Director of the Rutgers Rail and Transit Program. In this role, he leads a portfolio of rail-centric research, education, and workforce development initiatives. Liu's research focuses on the application of artificial intelligence, big data, and automation technologies to the improvement of rail operational safety and efficiency.
Liu has published over 100 papers in peer-reviewed journals and international conferences. He is currently the Associate Editor of the Journal of Rail Transport Planning & Management, and Journal of Smart and Resilient Transportation. He has received four "Best Paper" awards from the Transportation Research Board (TRB), the "Educator of the Year 2017" Award, and the "Researcher of the Year 2018", both in New Jersey. In 2018, he received a "Rising Star" award from the Progressive Railroading magazine.
Liu currently teaches several railroad courses at Rutgers. He received a B.S. degree (2008) from Shanghai Jiaotong University in China, and an M.S. (2011) and Ph.D. (2013) both from the University of Illinois at Urbana-Champaign (Illinois). At Illinois, his research centered on rail safety and risk management, at the Rail Transportation and Engineering Center (RailTEC).
---
The Civil and Environmental Engineering Alumni Association annually presents awards to recognize the outstanding accomplishments of CEE alumni. Nominations are accepted throughout the year. To nominate, please fill out and submit the appropriate form on the CEEAA Awards page.