California drought led to changes in crops, water sources
By Kristina Shidlauski
---
A recent study that evaluated the water footprint of agricultural production during the recent drought in California yielded a surprising result: farmers in the Central Valley used more water than in pre-drought years, not less.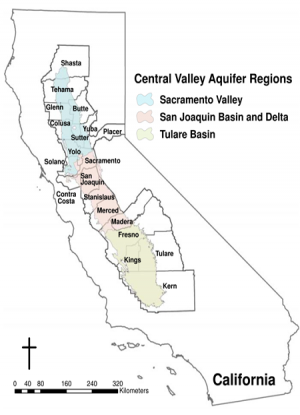 Using data from the California Department of Water Resources,
Megan Konar
(pictured above), assistant professor in the department of Civil and Environmental Engineering at the University of Illinois at Urbana-Champaign, and Landon Marston, assistant professor of civil engineering at Kansas State University and Konar's former Ph.D. student, tracked water use for the area during three years of extreme drought (2012-2014). They found that although there was a decrease in harvested acreage during this period, the production water footprint of agriculture – that is, all the water used in agricultural production – actually increased.
The increase in water use was partly due to increased plant water requirements as a result of higher temperatures during the drought. The increased usage was also the result of farmers switching from cereal and animal feed crops to perennial crops that have a multiple-decade lifespan, such as fruit and nut trees, Konar said. Because these crops yield a higher revenue, farmers were able to plant less acreage. There are downsides to this decision, however. First, on a per-unit basis these crops are more water intensive. Additionally, perennial crops reduce the resiliency of the agricultural system to future droughts. Trees, for example, cannot be fallowed the way cereal crops can. When another drought happens farmers will have to irrigate these crops because they've made such a large financial investment in them.
"Individual farmers are trying to make sure they make enough money to get through the drought," Konar said. "However, switching to more water intensive and perennial crops reduces the resiliency of the entire agricultural system to future drought."
At the same time farmers were switching crops, they were also changing the source of water used to irrigate the crops. Faced with a decline in both rainfall and surface water supplies, farmers increasingly began to pump groundwater from the Central Valley Aquifer to irrigate their fields. With no current policies on use, the groundwater footprint increased while precipitation and surface water footprints decreased. So, groundwater was an important resource that enabled farmers to get through the drought. Konar said that it is important to protect groundwater resources so that farmers will be able to withstand future droughts. However, groundwater is currently being used faster than it is being replenished in the Central Valley.
"Water rights are very complicated in California, but there are no restrictions on the use of groundwater," Konar said. "The only real restriction is the cost to access the groundwater, as farmers have to pay for the cost to drill the well and the electricity to pump water. One of the main outcomes of the drought is that Governor Brown instituted a groundwater policy, but it doesn't come into effect until 2040."
Impacts of the drought reverberated well beyond California. The increase in water footprint during the drought years was mirrored in measurements of virtual water transfers, or the water footprint of commodities and services as they move through the supply chain. The researchers found that during the drought, virtual water transfers – particularly that of groundwater from the Central Valley Aquifer – increased across U.S. and international destinations, despite a reduction in food transfers.
The U.S. is an important agricultural producer that produces a large percentage of many of the staple grains that are important to global food security, and depleting water resources would have food security impacts around the world, Konar said. Local and global consumers are benefitting from the Central Valley's groundwater resources, transportation infrastructure and irrigation systems, which enable them to consume the agriculture California produces.
"A lot of people don't realize the importance of these aquifers, and how important they are for national food security," she said. "We should think of groundwater aquifers as strategic resources to manage wisely for the future—as part of our infrastructure that we need to maintain and develop for the future."
---
This work is part of a $3 million grant from the National Science Foundation's Innovations at the Nexus of Food, Energy and Water Systems (NSF INFEWS) program. A paper describing this work, "Drought impacts to water footprints and virtual water transfers of the Central Valley of California" by Megan Konar and Landon Marston was published in Water Resources Research, an American Geophysical Union Publication in June.