CEE alumni awarded membership in the National Academy of Engineering
Two Illinois CEE alumni have been awarded membership in the National Academy of Engineering (NAE), one of the highest professional honors for engineers. A third CEE alumnus has been elected as an international member. Charles N. Haas (PhD 78) and Lutgarde Raskin (PhD 93) were named to the 2021 NAE class. Luis E. García (MS 72) has been named an international member. They will be formally inducted in October.
Haas is the LD Betz Professor of Environmental Engineering and department head, Civil, Architectural, and Environmental Engineering, Drexel University, Philadelphia. His NAE citation reads, "For contributions to quantitative microbial risk assessment for drinking water quality and public health."
Haas is known as one of the one of the founding fathers of quantitative microbial risk assessment. He has made seminal contributions in controlling pathogen transmission and water quality regulation. He was named a 2003 Distinguished Alumnus of CEE at the University of Illinois. In addition to being Illinois alumni, Haas has a further connection with his NAE 2021 classmate.
"I did a sabbatical back at UIUC in 1988-89 and taught two classes. Lut Raskin was a student in one of them! So the connections between the two of us go way back," he said.
Raskin is Professor of Engineering, Altarum/ERIM Russell O'Neal Professor of Engineering and the Vernon L. Snoeyink Distinguished University Professor, Department of Civil and Environmental Engineering, University of Michigan, Ann Arbor. She was inducted to NAE "For application of genetic tools to improve anaerobic biological water treatment."
Raskin is a pioneer in using genetic tools to study microbial ecology in water and wastewater treatment and quality. She has also educated many students, who became leaders in environmental engineering profession, both industry and academia. She served on the University of Illinois CEE faculty for 12 years, before joining the University of Michigan in 2005. She was named a Distinguished Alumna of CEE at the University of Illinois in 2019. One of Raskin's named professorships was the result of the donor allowing the recipient to choose the name of the professorship; Raskin chose her University of Illinois former professor and mentor, Vernon L. Snoeyink, now professor emeritus.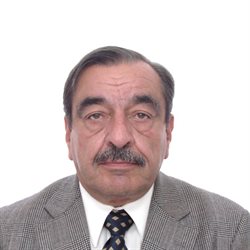 Luis E. García is an independent consultant and an Honorary Professor of the Universidad de los Andes, Colombia. He was inducted "For contributions to the earthquake-resistant design, construction and building code development of concrete structures."
Throughout a career in structural engineering that has spanned five decades, García has been a consultant, teacher, researcher and active member of professional societies. His work has contributed significantly to the development of building codes. In 1980, he founded Proyectos y Diseños Ltda., a structural engineering consulting firm in Bogotá, Colombia, for which he led structural design. García retired from the firm in 2015 but continued his work at the Universidad de los Andes, with which he has been affiliated since 1973. He was director of the civil engineering department there from 1982 to 1983.
Election to the NAE is among the highest professional distinctions accorded to an engineer. Academy membership honors those who have made outstanding contributions to "engineering research, practice, or education, including, where appropriate, significant contributions to the engineering literature" and to "the pioneering of new and developing fields of technology, making major advancements in traditional fields of engineering, or developing/implementing innovative approaches to engineering education." Election of new NAE members is the culmination of a yearlong process. The ballot is set in December and the final vote for membership occurs during January.