CEE alumnus teaches students surveying at Parkland College
Above: CEE students learn how to use surveying equipment.
By Kristina Shidlauski
Pointing to a picture of Mount Rushmore National Memorial that hangs on his wall, Parkland College Associate Professor Todd Horton deadpans, "This is a monument to three surveyors and one other guy."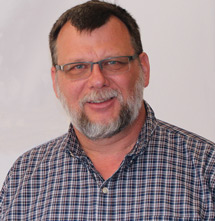 Horton (BS 86) is the Construction Management Program Director at Parkland, where he has been teaching surveying to CEE at Illinois students every year since 2012. Surveying has been a part of the CEE curriculum since the University of Illinois was founded, but it was dropped in the early 2000s after the last professor to teach it – Kam Wong – retired. CEE leadership then established a partnership with Parkland College which allowed CEE at Illinois students to study surveying at Parkland while still earning Illinois credits.
After a rough start during which few students wanted to commute to Parkland campus multiple days per week, a class schedule was developed that allowed students to view pre-recorded lectures online and make the trip just once a week for lab. In recent years, an average of ten students – mostly CEE students, plus a few from the College of Agricultural, Consumer, and Environmental Sciences – take the class each semester.
"The class is a broad overview intended to help people understand core concepts," Horton said. "And, at minimum, be able to communicate well with surveyors as engineers, but also have some basic skills when they go out in the field."
Visualization skills are one of the most important things he teaches the students, Horton said, because when they are engaged in the measurement process that serves as the basis for design they understand the information far better. A typical assignment Horton sets is a basic station and offset mapping job, in which students use instruments to collect data, and then use that information to hand draw planned views, cross-section views and profile views. He also teaches them how to use total station instruments – one of the main workhorses of the surveying industry, Horton said – to take angle and distance measurements sufficient to help them draw a topographic map.
"Contour lines are understood by a very small percent of the population, but we take them to the point where not only do they understand contour lines but they can create them from scratch, having taken the measurements themselves," he said.
Construction plan reading is also part of this course, and Horton likes to walk students through a nearby subdivision with plans in hand so they can compare what is on the drawing to what it looks like in real life.
"Even if we're only out there for half an hour, it has a really huge impact," Horton said. "That's one of our goals – to make sure that people see the relationship between the plans the engineers put together and reality."
These days, a surveyor needs to have a broad range of knowledge in order to understand complex modern surveying equipment, software and data quality issues, and be able to go from taking measurements in the field to drafting in the office, Horton said. It is an asset for an engineer to have these multidisciplinary skills, but even a basic understanding of them is useful – particularly in transportation and construction management fields, where engineers will often find themselves interfacing with surveyors.
Not only is surveying beneficial to an engineer's career, but it can appeal to those who enjoy history. For example, a land surveyor might find himself searching out old section corners – the corner of a one square mile piece of land – that were set with stone markers during the 1800s, digging through historical records to find an original plat to settle a boundary dispute, or investigating old fences to see what people have been considering to be their property lines.
"A lot of us who are land surveyors, we really like boundary survey because it's like we're solving this great big puzzle. It's not just a geometric puzzle, but also a puzzle of history and laws and people," he said.
In addition to the class for CEE students, Horton also teaches a weekend land surveying program that allows working professionals to take the entire sequence of 24 credit hours required for someone to become professionally licensed. The course content is delivered with pre-recorded videos and labs take place one weekend a month for 24 months.
There is a great advantage to any engineer in becoming a professional land surveyor, Horton said. During the recession of the last several years, he knew many engineers, architects and land surveyors who were out of work. But every licensed engineer he knew who was also a licensed land surveyor worked steadily because of their ability to wear multiple hats. Horton also referenced studies which found that engineers who add professional land surveying to their license greatly increase their earning potential.
There is also the possibility of fame to go with the fortune. After all, surveying got George Washington, Thomas Jefferson and Abraham Lincoln a spot on Mount Rushmore.
---
To reach Todd Horton, email thorton@parkland.edu.
Special thanks to Dennis Cummins (BS 94) for contributing to this story.