CEE team wins first place in transportation data challenge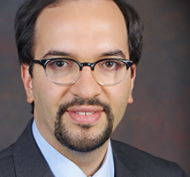 Two CEE graduate students advised by assistant professor
Hadi Meidani
won first place in a Data Challenge held in connection with the Transportation Research Board Annual Meeting in January 2020. Students Xiyue Li and Mohammad Amin Nabian (above) developed a computational tool designed to lower the risk of traffic accidents.
The competition challenged teams to develop a predictive tool to forecast the risk of vehicular accidents given a number of observations, such as visibility, road geometry and weather conditions. The goal was to improve operational decision-making to increase safety. The teams were given a dataset from the State of Virginia that included approximately 780,000 crash records from 95 counties and 38 independent cities. They had about five months to complete the challenge.
The Illinois team's winning submission will allow city and state officials to identify high-risk conditions and warn drivers, for example through messages in navigation applications and by way of electronic road signs.