Cha, Sychterz named ORMIR Faculty Scholars
Eun Jeong Cha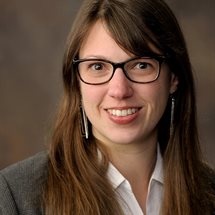 Ann Sychterz
The University of Illinois Urbana-Champaign has selected five faculty scholars for the 2021-2022 academic year to advance research on risk management and preparedness. The scholars include CEE at Illinois assistant professors Eun Jeong Cha and Ann Sychterz. The faculty scholars were announced by the University's Office of Risk Management & Insurance Research (ORMIR) within the Gies College of Business and represent various colleges across the UIUC campus.
Cha's proposed research aims at projecting the U.S. hurricane wind risk profile in the future by considering various scenarios of building code change in response to future climate change. Machine-learning approaches will be adopted to enable national-scale climate-dependent hurricane risk assessment. Since the uncertainty in the physical vulnerability of built infrastructures against hurricanes is strongly related to building design codes – which are subject to change over time – Cha's research will provide insight for insurers to better price risk to exposure.
Sychterz plans to create a hybrid model-based model-free machine-learning program to dramatically reduce the people-hours and increase the quality of predictive damage detection and assessment. Uncertainty statistical parameters will generate scenarios for are domain-specific and new parameters would focus on the economic impact and the insurance assessment of the structure. Training data for the hybrid machine-learning algorithm will utilize datasets of a full-scale aluminum pedestrian bridge and a full-scale cable-strut pedestrian bridge undergoing damage.
Launched in 2003, ORMIR supports research and educational resources that address critical risk issues facing business and individuals and focuses on preparing students with diverse skills for careers in risk management and insurance. Research Scholar positions, which are funded by ORMIR corporate partners, advance research on the critical risks faced by global populations and organizations. They also address the implications of these risks for the insurance industry.