High-Speed Rail a New Focus for Railroad Program
Professor T.C. Kao and his wife, Mei, wait to board a high-speed train in Taiwan.
High-speed rail is the next big thing in railroad engineering in the United States, and the University of Illinois' Railroad Engineering Program is assuming a leadership role in bringing the latest information about this hot topic to students, fellow educators, and the industry. This semester, an expert from Taiwan is teaching, at Illinois, the first university-level class in high-speed rail to be offered in the country. In addition, a major international rail conference will be held on the U of I campus in April, featuring high-speed and intercity passenger rail as its primary focus.
High-speed passenger rail has been hailed as an energy-efficient, environmentally friendly mode of transportation. It requires a specialized system of dedicated tracks, trains built to travel at least 155 miles per hour, and advanced technology for support systems like communication and safety monitoring. Currently only one moderately high-speed line is in operation in the United States along the Northeast Corridor, but the Federal Railroad Administration has spent years outlining its vision for a network of true high-speed rail lines in the country, a plan that came closer to fruition with a funding pledge by the Obama administration.
"Until the new administration's commitment to high-speed rail, it was more of a distant hope than a likely reality to have extensive high-speed rail in this country," says Professor Christopher P.L. Barkan, Krambles Faculty Fellow and Director of the Railroad Engineering Program.
In January, President Obama pledged $8 billion toward the development of high-speed rail in the United States through the American Recovery and Reinvestment Act plus an additional $5 billion over five years through the annual budget process. Experts agree this is an important step but not nearly enough to develop a national high-speed rail network, the cost of which has been estimated at $100 billion. But whether the network takes decades to realize or gets a boost from private funding, high-speed rail will be part of the transportation picture in the U.S., and civil engineering students will benefit from knowledge of the field.
"There will be expanded opportunities for civil engineering students as a result of this initiative in the United States," Barkan says.
The high-speed rail course at Illinois owes its genesis to former Illinois student Yung-Cheng (Rex) Lai (MS 04, PhD 08), currently an assistant professor in the Department of Civil Engineering at National Taiwan University. Lai introduced Barkan to National Taiwan University colleague T.C. Kao, Ph.D., P.E., who teaches about high-speed rail and project management. Kao holds a bachelor's degree from National Taiwan University in civil engineering, a master's degree in structural engineering from Rutgers University, and both a master's and a Ph.D. in geotechnical engineering from the University of California at Berkeley. He was a one-time student of former CEE faculty member Ralph Peck. Kao has spent his career working in railroad engineering and served as vice president of the Taiwan High-Speed Rail Corporation. In that capacity, he worked on all aspects of Taiwan's high-speed rail project. Barkan and Kao began discussing the possibility of a high-speed rail class at Illinois, and Barkan saw the benefit of bringing Kao's expertise to Illinois, particularly in the face of the country's new momentum in high-speed rail.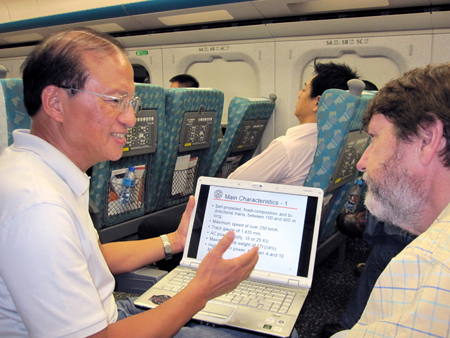 Professors T.C. Kao, left, and Chris Barkan discuss the high-speed rail course at Illinois while traveling on the Taiwan high-speed rail line.
"Professor Kao has excellent academic credentials, and when you combine that with a lifetime of experience working in the rail industry, it's a rare blend," Barkan says. "He has seen every single aspect of the planning, design, construction and operation of a high-speed rail system. And this is coming through very nicely in the class. The Taiwan system is one of the newest in the world, so he's got a very current understanding of the state of the art of high-speed rail. I'll also add that he's a fantastic teacher."
Professors Chris Barkan, left, and T.C. Kao
Kao, who has written a book about his experiences bringing high-speed rail to Taiwan, was eager to share his passion for high-speed rail internationally.
"The development of high-speed rail has pushed rail technology to new frontiers—the aerodynamic design of the train, the more powerful propulsion system, more energy-efficient braking system, the digital automatic train control system, the use of GSM [Global System for Mobile Communications] for data transmission, slab track which gives more track strength and stability with much less maintenance, disaster warning systems, innovative financial approaches," Kao says. "And more technology development is under way. I think high-speed rail will bring a renaissance to passenger rail transportation in this country."
About 40 students are taking Kao's course, which covers all aspects of a high-speed rail system from the technology behind it to operation and management, project planning, and project implementation.
A Taiwan High-Speed Rail train
Given the national interest in high-speed rail, Barkan, who chairs the American Society of Civil Engineers' (ASCE) Rail Transportation Committee, thought the topic was a natural choice for the 2010 Joint Rail Conference, which is being cosponsored this year by ASCE, the American Society of Mechanical Engineers, IEEE, the American Railway Engineering and Maintenance-of-Way Association and the Transportation Research Board. This year, the conference will be hosted at the University of Illinois April 27-29 and is expected to draw several hundred attendees from industry, government and academia. Highlights include a session on the Asian high-speed rail experience with invited speakers from China, Japan, Korea and Taiwan. Another session will focus on the U.S. Department of Transportation High-Speed Intercity Passenger Rail Program and will feature presentations by Mark Yachmetz, Associate Administrator for Railroad Development for the Federal Railroad Administration, and by others involved with that program.
The topic is of particular interest in the state of Illinois, which will receive some of the stimulus money for development of a high-speed rail line between Chicago and St. Louis. The near-term plan in Illinois, Barkan says, is to upgrade the existing rail line to allow a maximum speed of 110 miles per hour. To achieve considerably higher speed would require a brand new system with its own, dedicated right-of-way. It would cost much more but enable trains to travel at 220 miles per hour, providing a competitive alternative to driving or air travel, he says.
According to Kao, Taiwan's high-speed rail system transports 100,000 passengers a day—people who would otherwise travel by car or plane, resulting in a much larger carbon footprint. It's a compelling idea for the United States and one whose time is coming quickly.
"I think this country needs it," says Kao. "This country needs high-speed rail."