IDOT grants support concrete-related research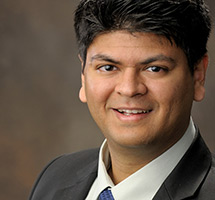 The Illinois Department of Transportation (IDOT) has awarded $600,000 in grants to a CEE research group for two concrete-related research projects. Led by assistant professor
Nishant Garg
, one project will focus on concrete crack sealing and sealants and the other on concrete curing.
In the first project, Garg's research group will examine cracks that form in the concrete used in bridge decks due to factors such as shrinkage and excessive loading, and study the chemical structure of commercially available sealants that are used to fill them. The researchers will first evaluate the performance of sealers in the lab, then investigate methods to measure efficacy and improve crack-sealing procedures in the field. Garg will collaborate with Dr. Abbas Butt from Engineering & Research International in Savoy, Ill., for field-testing.
In the second project, Garg's group will explore methods to shorten the amount of time needed for curing concrete. The researchers seek to optimize the cure times by identifying and achieving the ideal levels of porosity and resistivity – which correlate well with strength and durability – for different types of concrete usage. Reducing the amount of time required for curing could result in fewer delays on infrastructure projects where rapid deployment is desirable, such as opening a highway or bridge to traffic.
"Concrete is an integral and critical part of our transportation infrastructure," Garg said. "With the first project, the goal is to identify optimal crack-sealants and establish best crack-sealing procedures for IDOT. And with the second project, we are striving to reduce concrete cure times so that we can realize the goal of accelerated construction. Both of these projects stand to considerably benefit the state of Illinois, and I'm very glad to get these opportunities to take my lab results and implement them in the field."
These research projects will be conducted in partnership with the Illinois Center for Transportation.
---
Top photo by Jared Murray on Unsplash