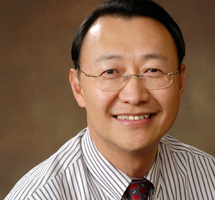 Associate Professor Liang Y. Liu has been appointed CEE's new Associate Head and Director of Undergraduate Studies. He succeeds Professor David A. Lange, who has served in the position since 2004.
Since he joined the faculty in 1992, Liu has taught graduate and undergraduate courses in Construction Productivity, Cost Estimating, Construction Management Information Systems, and Construction Case Studies. His research program includes both basic and applied research in construction engineering and management, including project controls, productivity analysis and improvement, cost engineering, information technologies, facility life-cycle analysis, risk management, and computer simulation.
Liu has been recognized several times for excellence in research, teaching and advising. In 2001, he was named the W. E. O'Neil Faculty Research Scholar. In 2003, he won the Teaching Excellence Award of the University of Illinois College of Engineering. He received the Engineering Council Award for Excellence in Advising in 2007.
"Liang is passionate about the education and well-being of our students and is one of the most effective teachers in the department," said Professor Amr S. Elnashai, CEE Department Head. "He has excelled as the senior adviser and has established an unparalleled rapport with all student constituencies. He is truly the ideal candidate for the position of Director of Undergraduate Studies. Moreover, Liang has a grand vision for interdisciplinary and global teaching and research, and is collegiate and energetic. Having him as one of the two associate heads will bring new energy and vigor to the departmental leadership team."
"What excites me most about serving as the Associate Head and Director of Undergraduate Studies is the opportunity to interact with the students to provide mentorship and advice on their academic needs and professional growth," Liu said. "As an administrator, I will have the unique opportunity to work closely with students, faculty, alumni, and industry leaders on improving the CEE curriculum and implementing new initiatives to enhance the undergraduate experience here. Nothing motivates me more than seeing student's success and accomplishments during their study at the U of I and after graduation."