Spencer Tours Chinese Earthquake Site
Spencer, right, with Professor Lili Xie of the Chinese National Academy
In May 2008, the Sichuan province in China was struck by a Magnitude-8.0 earthquake, the epicenter of which was near the city of Wenchuan. The earthquake killed tens of thousands of people and caused widespread devastation, and the Wenchuan area was one of the hardest hit. The Chinese government assigned responsibility for the recovery efforts in Wenchuan to the more affluent community of Guangzhou City to the south. Their charge was to rebuild the community while preserving the heritage and culture of the local people.
Two years later, with the recovery efforts complete, the Guangzhou City government invited an international team of earthquake engineering experts to Wenchuan to review their efforts. CEE Professor Bill F. Spencer Jr., who speaks Chinese and collaborates frequently with earthquake engineering colleagues in Asia, participated in the review, held July 17-18. Spencer is the Nathan M. and Anne M. Newmark Endowed Chair in Civil Engineering.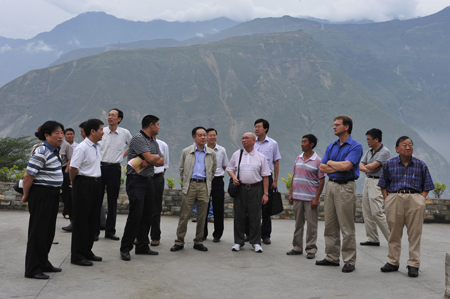 Members of the review team pictured in Wenchuan.
The group toured rebuilt neighborhoods, as well as a new hospital, schools, a drinking water treatment plant, a shopping mall, and a sports complex, as well as a public park in which local residents hold nightly dances. Because dancing is especially important to local culture, the addition of the park in the restoration was significant, Spencer said. The entire restoration took just 18 months to complete.
The trip provided a vivid reminder of the uniquely damaging effects of earthquakes on developing countries, Spencer said, and re-emphasized the importance of seismic design codes. The newly constructed buildings in Wenchuan will be much more resilient to any future earthquakes thanks to modern construction techniques. An interesting aspect of the recovery, Spencer said, was the care with which the Guangzhou government approached their task of rebuilding the Wenchuan community for their less-fortunate neighbors.
"By decentralizing the restoration, I think it was done much more effectively, because of the pride that Guangzhou City took in doing it," Spencer said.
The team of experts and government staff pictured in front of the new museum in Wenchuan.