Topology optimization connects architecture and engineering

A conceptual design created with topology optimization by Professor Glaucio Paulino's research group. The 3-D computer modeling technique seeks to find the most efficient shape of a physical system. The lines of this design were inspired by the structure of a spider web. Photo: Skidmore, Owings & Merrill LLP.
Engineers and architects have a new way to collaborate in the design of buildings thanks to the work of Professor Glaucio Paulino, who is applying the 3-D computer modeling technique of topology optimization in innovative ways. Together with CEE alumnus and adjunct faculty member William F. Baker (MS 80), Paulino has developed a tailored software framework that allows design teams of engineers and architects to generate structurally sound design alternatives while minimizing material consumption, resulting in creative, sustainable designs that integrate form and function in a synergistic way.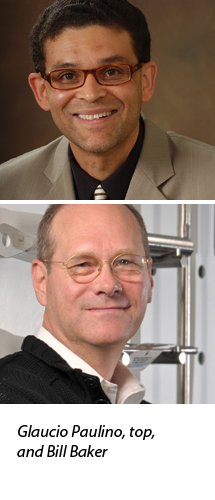 Engineers have used topology optimization for decades to create custom designs that satisfy certain requirements, or objectives, and constraints. The method is prevalent in the automobile and aerospace industries, but Paulino's work has further developed the technique for additional applications. In 2010, he collaborated in a National Science Foundation-sponsored project with cancer surgeon Dr. Michael Miller at the Ohio State University to apply topology optimization to the problem of designing bone replacements for facial reconstruction patients. This work was published in the Proceedings of the National Academy of Sciences. His latest work has been in tailoring the technique toward tall building design, for which he has teamed up with Baker, Structural Engineering Partner for Skidmore, Owings & Merrill LLP in Chicago. An expert in the engineering of tall buildings, Baker is best known for designing the "buttressed core" structural system for Dubai's Burj Khalifa, the world's tallest manmade structure.
"Topology optimization allows us to really explore our creativity," Paulino said. "Traditional methods of structural engineering are mostly associated with buildings that look like boxes. With topology optimization, we can address unique designs—for example green buildings and organic designs such as buildings that might be bio-inspired by an animal shape—and functionality."
This creativity is possible thanks to a computational framework that allows engineers and architects the freedom to explore novel designs that are aesthetically pleasing while still satisfying principles from structural engineering and mechanics. The result is a truly integrated design process that avoids the pitfalls of either designing very unusual structures that are not structurally feasible or overly "safe" designs that are not innovative or attractive.
Topology optimization helps engineers determine where to place material within a design domain based on the loads and boundary conditions for a specific objective. Through the selection of the objection functions and other metrics that might fit the problem being studied, architects and engineers can then explore a spectrum of alternative solutions. This selection process has been shown to provide new ways to look at designs, which in turn inspires the overall design of the structure, Paulino said.
Paulino is extending this research, in collaboration with Associate Professor Junho Song, to improve practical design processes of buildings subjected to stochastic, or random, excitations caused by natural hazards, such as earthquakes.
"Recent advances in optimization theory allow us to develop integrated design guidelines for safer buildings which are more sustainable and resilient," Paulino said.
Researchers have previously developed many computational optimization tools, in which the goal is to reduce the cost or material usage in a structure while satisfying specific design criteria. Among these tools, there are size optimization, shape optimization, topology optimization and others. Paulino's work takes optimization one step further: it is employed to assist in the overall layout optimization and creation of innovative designs for the entire design process from architecture to engineering.
Paulino has used the emerging research in topology optimization to design a new course, CEE598 Structural Design Optimization, which he taught for the first time in fall 2012. Baker was one of several guest lecturers.
"The class culminated in a final project, which was quite successful and covered a wide variety of topics, from optimization of tall buildings, to design of pressure vessels, to search of optimal evacuation routes for victims after a disaster," Paulino said. In addition, several students in Paulino's research group are doing their research in the area.
This work is supported by the National Science Foundation.