Two CEE students awarded second place in the GeoPrediction Competition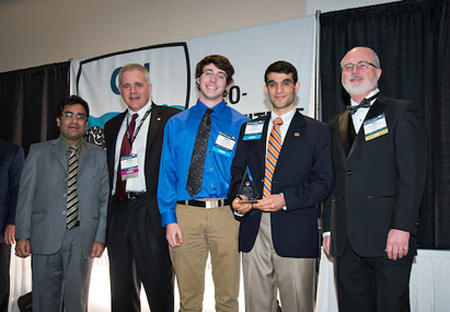 CEE Students pose with their second place award in the GeoPrediction Competition at the 2013 Geo-Congress Conference. Left to Right: Binod Tiwari (competition coordinator), Craig Benson (President of ASCE Geo-Institute), Aaron Leopold, Navid Jafari and Robert Schweinfurth (Director of Geo-Institute). Photo: Mark Skalny
CEE PhD student Navid Jafari (MS 11) and undergraduate student Aaron Leopold were awarded second place in the GeoPrediction Competition at the 2013 Geo-Congress Conference. The conference was held on March 3-6 in San Diego, Calif., and is an annual conference for the geotechnical engineering profession.This year, the Geo-Congress was a specialty conference on Stability and Performance of Slopes and Embankements III.
The goal of the GeoPrediction Competition is to predict the behavior of a real world geotechnical system. Teams were required to present a poster and submit a report at the conference with their predictions for the likely groundwater table conditions at the time of a slope failure.
Jafari and Leopold were awarded second overall. Their report also placed second, winning a $1,000 travel stipend to attend the conference.
Professor Timothy Stark is the advisor for both Jafari and Leopold.