Cooperative agreements attract top international students
In 2010, CEE at Illinois embarked on a new direction in global engagement: cooperative agreements with international universities that would bring the best students from other top CEE programs throughout the world to study at Illinois during their senior years, and continue on to earn a Master's degree. These agreements were the start of the 3+2 B.S.+M.S. Program, in which students spend three years at their home university and two years at Illinois to finish their B.S. and earn their M.S.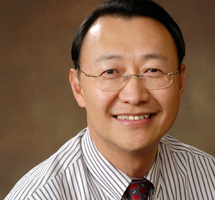 Fourteen students arrived on campus in Fall 2011, hailing from four universities: Istanbul Technical University, Dalian University of Technology, Zhejiang University and Tongji University. Associate Professor
Liang Liu
, who was involved with early planning and implementation of the program, said that the factors in selecting which schools to partner with included academic excellence; existing collaboration and exchange of faculty, administrators and institutions; and the compatibility between the curricula of the departments. The leadership team at CEE at Illinois also considered global connections and impacts as they explored the partnerships.
"We hope that through the partnerships we will bring in the best students from our international peer programs," Liu said. "At the same time, with the potential of supporting/encouraging CEE's domestic students to travel and study abroad to enhance their international experiences."
Professor
Erol Tutumluer
was appointed as the department's first Director of International Programs in March 2011 and has continued to grow the 3+2 B.S.+M.S. program in the intervening years. As of fall 2016, CEE at Illinois has agreements with 12 partner institutions with two more in the process of being finalized. Tutumluer said there is great interest from international universities to partner with CEE at Illinois, and that the students who are selected to participate are of the highest caliber.
"They're top quality, cream of the crop from their universities," Tutumluer said. "They know they're coming to the number one department in the U.S. at CEE at Illinois, so they know this is the top level of education they'll be receiving for their future careers."
Hannah Christensen, Coordinator of International Programs, said that learning American culture is another draw for many of the international students. To facilitate this, international students who participate in an intensive English course are paired with conversation partners.
"The idea is that there is a cultural exchange as well as practicing the English language," she said.
Christensen also shared an anecdote about an international student who had a research appointment over the summer, after her first year at Illinois. The student mentioned that her favorite part of the experience was being in the lab with other students and learning about the culture. The student noted that at first she didn't understand the jokes and casual conversation, but by the end of the summer she was catching on and could participate more.
Additionally, Tutumluer said, many of the students find time to participate in extracurricular activities on campus, becoming members of campus organizations and student groups, including those within CEE. These experiences give them more exposure and a very good cultural experience, he said.
Dai Teng, a recent alumnus of the program, said that there were difficulties adjusting to a different country both in and out of the classroom, though the diverse campus population and plenty of helpful people made it easier to fit in. (read more about Dai Teng's experiences below)
"The biggest challenge is the language," he said. "Learning from the text book is always different from applying to the reality. In the first month, I couldn't understand anything other than basic words. Professional terms, slang and fast speaking speed of local people made life full of mystery. But it improved as time went by. Living style difference is another challenge. America is more open, and with more friendly people. Everything seems to go in a free and relaxed way, but in the same time they obey very restricted rules. Trying to figure out how to behave in an appropriate way for specific occasions took lots of thinking."
Teng added that in a university as diverse as Illinois, and a country as diverse as the United States, the boundary between native and international has become fuzzy. Students have to learn to study and live with others from different cultures, and as a result they accept each other and help each other.
"In the end, we cannot live without each other since the world is more and more globalized," he said. "As a structural engineer, I have been dealing with developers from all different countries: China, India and France… if I didn't know the classmates from those countries, I wouldn't know why they have specific requirements for their buildings. It's all about learning more from other people, and [Illinois] provided me such a great platform to do so."
---
Meet Dai Teng (MS 14)
Dai Teng (MS 14) is an alumnus of the 3+2 BS+MS program. Born and raised in Harbin, China, Teng earned a B.S. degree in Civil Engineering from Dalian University of Technology before coming to CEE at Illinois to earn his M.S. degree in Structural Engineering. Teng took some time out of his day to answer a few questions about his experiences.
How did you learn about the 3+2 program, and why did you decide to apply?
One of my classmates was very interested in going out of the country for study, so he knows all the programs run by the university, and he got me introduced. I figured the program is very time efficient and [Illinois] is the one of the best engineering school in the world and CEE ranked # 1 the year I applied, so I tried my luck.
What were the advantages of earning your degree at Illinois, as part of the 3+2 program?
Being part of one of the most famous and successful organizations not only enhanced my professional skills in the structural engineering industry, but also gave me the opportunity of knowing top students and widened my network. Furthermore, the program is very time efficient. By the time my school mates graduated, I have already had at least one year experience.
Do you feel like your experience with the 3+2 program and the resulting degree was an advantage when you were applying for jobs?
The degree obtained from such a famous school really helped me get the offer from companies. [Being] labeled as graduate from [Illinois] has already attracted lots of attention, and [the] good training I got from school guaranteed I have the ability to be the best candidate.
Did interacting with people of different nationalities/backgrounds have an impact on you when you were taking classes?
Yes, it definitely had impact on me interacting with people of different culture. Different education systems of different country makes the campus a great platform for us to share resources. I learned different study methods from classmates of other counties. Also, some hard study students really pushed me to become a better student as well.
Did having this sort of cross-cultural exposure help you at all when you transitioned to a professional working environment? If so, how?
Yes, it [was] the same concept as learning in the school. Furthermore, by knowing all the classmates from different cultures [I] extend[ed] my professional network. Especially I found it would be very easy to get along with other people from other culture since I had been exposed to an environment with people that have the same culture. It made me understand their culture easily in the professional working environment, even it would help me to understand what my clients were thinking based on my experience dealing with people [that] had the same background.
What are you doing now, professionally?
I am currently working in a structural engineering consultant firm as a structural engineer in California. I have been designing several buildings in Los Angeles, some of them are under construction and will be landmarks in the downtown LA.