Alumni, Students Tour the Chicago River
The tour began in daylight and ended after sunset, offering different views of the river and the skyline.
About 125 CEE alumni and students set sail on the Chicago River Aug. 29 for a boat tour hosted by the Civil and Environmental Engineering Alumni Association (CEEAA). The tour was narrated by a two-person team including CEE alumnus Richard F. Lanyon (BS 60, MS 61), retired executive director of the Chicago Metropolitan Water Reclamation District of Greater Chicago, and Constance Rajala, a docent from the Chicago Architecture Foundation.
The author of Building the Canal to Save Chicago, Lanyon spoke about the importance of the canal system to the city in historical and contemporary terms. Rajala talked about the city's architectural history and the buildings along the route. Guests also enjoyed an opportunity to network and enjoy refreshments.
Nearly half the attendees were students, who arrived by bus from Champaign. The fall student trip, held on the Friday of the first week of classes, has become an annual tradition for the CEEAA, but the event has featured a company visit in the past. This year, the CEEAA board's Student Support Committee – at that time including David Byrd, Dana Mehlman, Colleen Quinn and Scott Trotter – wanted to try something a little different. The availability of Lanyon, an alumnus with extensive knowledge about the river, provided an opportunity to give a unique CEE spin on a traditional Chicago architecture tour.
"My biggest thrill was to present to the CEEAA and to describe the strong connection between the Department of Civil and Environmental Engineering and Chicago, and with the Metropolitan Water Reclamation District," Lanyon said. "[Former department faculty members] Karl Terzaghi and Ralph B. Peck guided the development of foundation engineering for Chicago buildings and the subway system. [CEE alumnus] Fazlur Khan made structural engineering history with the Sears – now Willis – Tower. [Current CEE Professor] Marcelo García unveiled the mysteries of density currents in the Chicago River. And [current CEE faculty member] Art Schmidt and an army of students pieced together the computational model for the complex deep tunnel system."
The tour covered about five miles of the area's 77-mile network of canals, all of which are important to the city for many reasons, Lanyon said.
"The entire system is so vital to the wellbeing of the urban area and its citizens, providing commerce, drainage, public health protection, recreation, stormwater management and water reuse," he said. "Most important, the canal system protects the quality of Lake Michigan and allows the city and suburbs to enjoy a beautiful lakefront."
CEEAA board members expressed the hope that the boat tour would become an annual event.
For more information on CEEAA events, visit the department's alumni page.
Dick Lanyon discussed the importance of Chicago's canal system.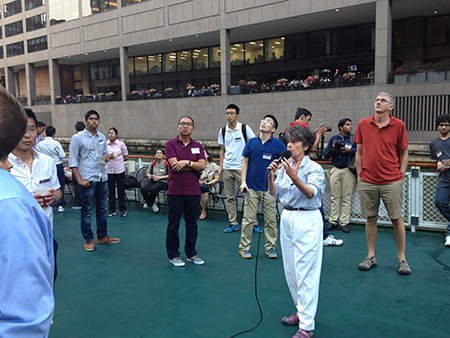 Constance Rajala talked about the city's architecture.