Recycling Promises Greener Future for Transportation

Photos: At top, concrete crushing operation at O'Hare Airport; below, Jeffery Roesler
By Brian Kornell
The aging of the nation's transportation infrastructure necessitates countless projects to repair, maintain and replace crumbling pavement. The recycling of road materials yields clear benefits to the environment and is more cost-effective, but it is not often put into practice due to uncertainties about the behavior of recycled materials and their effect on pavement durability, says CEE Professor
Jeffery Roesler
(BS 92, MS 94, PhD 98).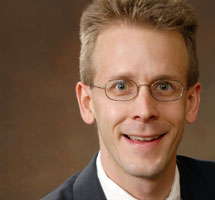 "Not all recycled material will be useful for every application," he says. "We must test and characterize its properties and develop mixtures and applications for this material to ensure it can be constructed properly and last the intended service life."
Two current research projects by transportation faculty promise to increase the viability of recycling road materials. Ultimately, the goal is to make the concrete/asphalt products containing recycled materials last as long, about 20 years, as those made with all new materials, Roesler says.
A good quantity of asphalt harvested from road projects is still in useable shape. Reclaimed asphalt pavement (RAP) can be mixed in with new materials for road surfaces, which makes it both more cost-effective and better for the environment. Concrete can also be recycled and used as an aggregate (it is known as RCA when used in this manner) in new concrete mixes.
RCA is the focus of a project by researchers led by Roesler and Professor
David Lange
for the O'Hare Modernization Project at O'Hare International Airport, which is funded by the O'Hare Modernization Program and the City of Chicago through the University of Illinois Center of Excellence for Airport Technology. Roesler and Lange were initially brought on to find a use for the crushed concrete that resulted from O'Hare's updating of runways, taxiways, and apron areas. The RCA was used to replace virgin aggregate in new concrete slab replacement for the existing apron areas. Researchers developed the concrete mixtures, then tested them to determine if the materials created would meet the service life requirements for the O'Hare airfields.
The ongoing project, which started in 2006, has evolved to include finding ways to use the large amount of fine RCA that has also been generated from the airport's projects. Heavy plane traffic at O'Hare means a lot of wear on the runways, which will require a lot of maintenance to keep traffic moving smoothly and safely. Developing sustainable methods for these projects is an important goal for all involved.
Another project—led by Roesler, Professor
Imad Al-Qadi
and graduate research assistant Alexander Brand (BS 10) and funded by the Illinois State Toll Highway Authority—uses proportions of fractionated reclaimed asphalt pavement (FRAP) as a coarse aggregate in concrete for pavement applications, as well as available by-product materials such as fly ash and blast furnace slag as a replacement for the high carbon footprint of cement. The overall goal, Roesler says, is to "rehabilitate 40 miles of the I-90 Tollway in the Chicago area in the next couple of years with concrete containing FRAP as one of the main roadway materials."
To prepare for this, Roesler has been examining the properties of both fresh and hardened concrete samples which were mixed with FRAP to determine such issues as the strength, fracture, and freeze/thaw durability of the product. The project's next stage will look at, among other things, ways to determine effective treatment methods to improve bonding between the cementitious matrix and FRAP aggregate so that a higher percentage of coarse FRAP may be used.
As renewal of our paved environments continues, research into recycled road materials promises a greener future for the transportation industry.